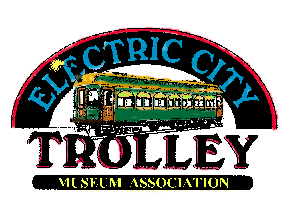 Welcome to www.ectma.org, the web site of
The Electric City Trolley Museum Association
A Non-Profit Educational Corporation
The Electric City Trolley Museum Association is a volunteer non-profit group that supports the activities of the Electric City Trolley Museum in downtown Scranton, Pennsylvania, USA, at the Steamtown National Historic Site. The association is an outgrowth of predecessor preservation groups including Buckingham Valley Trolley Association and East Penn Valley Traction, which conveyed to the museum most of the trolleys and artifacts in its historic collection. Association members support the Electric City Trolley Museum with their time, talent, trolley expertise and contributions. The Electric City Trolley Museum Association is IRS recognized as a 501(c)(3) registered non-profit organization, and donations are tax-deductible to the extent permitted by law. We welcome anyone sharing our interest in electric railways of eastern Pennsylvania to find out more about the Electric City Trolley Museum Association through this web site, and to consider joining or supporting our activities by becoming a member.
---
The 2015 trolley excursion season will start April 30th 2015 with trips scheduled at 10:30 AM, 12:00 Noon, 1:30 PM and 3:00 PM, Thursday through Sunday.
Note: The Noon departure is changed to 12:15 PM and the last departure is changed from 3:00 PM to 2:30 PM on Sundays when Baseball excursions are scheduled.
---
Please go the Museum Page for additional information about visiting the Museum and the Trolley Excursion Ride ticket sales and boarding area.
Trolley Excursions are also scheduled Memorial Day, Monday May 25th, 2015, Independence Day, Saturday July 4th, 2015; Labor Day, Monday September 7th, 2015 and Columbus Day, Monday October 12th, 2015.
---
---
---
Trolley of Terror with "LEATHERFACE"...Don't Get Stuck in The Tunnel!
When a trolley goes through a tunnel and it gets dark, you don't throw away the ticket and jump off.
Unless!!! You're sitting next to "LEATHERFACE"
October 31, 2015. Rides at 5:00 PM & 6:00 PM.
$10.00 per Person, reservations required. Call Museum for Tickets and Information - 570 963-6590.
Excursions will board at Cedar Ave passenger platform at the Iron Furnace.
Nearby free parking behind U of S Fitzpatrick Field across from the General Dynamics Plant Cedar Ave.
Meet Dan Yeager who played "Leatherface" in the movie "Texas Chainsaw 3D".
Available for discussions and Autographs (Small Fee).
---
Toys for Tots excursions in 2015 will be Friday Nov 27th & Saturday Nov 28th and Santa on the Trolley for 2015 will be Sunday Nov 29th, Saturday Dec 5th, Sunday Dec 6th, Saturday Dec 12th, Sunday Dec 13th, Saturday Dec 19th and Sunday Dec 20th.
Accompany Santa Claus for a ride on the Trolley. Reservations are required. Please call the museum at 570 963-6590 for further information, reservations and to confirm the 2015 holiday trolley schedule.
---
Project 505
Project 505 is a project being promoted by the Electric City Trolley Museum Association and several Greater Scranton Civic leaders to bring back a part of Scranton's transit history by restoring to service a classic 1929 Electromobile streetcar.
Click here for information about Car #505 and how to donate to Project 505
---